Atlanta REALTORS® Market Brief: March 2023
April 20, 2023
March Highlights
The March 2023 Market Brief, compiled by First Multiple Listing Service (FMLS), provides a regionally focused synopsis of monthly sales and home prices for residential properties in Metro Atlanta. This summary covers 11 counties: The Atlanta REALTORS® Market Brief is designed to offer an overview of the Atlanta residential market by providing a synopsis of sales and home prices, and covers 11 counties: Cherokee, Clayton, Cobb, DeKalb, Douglas, Forsyth, Fulton, Gwinnett, Fayette, Paulding, and Rockdale.
Demand: March residential sales were at 5,100, a decrease of 26.0% from the previous year.
Price: Average and median sales prices continue to outpace 2022's figures, with positive gains. The median sales price in March was $397,000, an increase of 0.5% from last March. The average sales price was $478,500, up 1.7% from the previous year.
Supply: Atlanta area housing inventory totaled 9,203 units in March, an increase of 28.6% from March 2022. New listings totaled 7,054, down 18.6% from March 2022 and up 29.8% from the previous month. The month's supply over a 12-month period increased to 1.8 months.
A Word from 2023 Atlanta REALTORS® President Michael Fischer:
"We have experienced a slight decline in interest rates over the last few weeks and this has sparked some renewed interest among buyers," reports Atlanta REALTORS® Association President Michael Fischer. "We continue to see extremely low inventory and, as a result, we are now experiencing a return of multiple offers on properties in certain areas."
"While we're still seeing the total number of transactions lower than last year's strong pace, the greater competition around new listings has resulted in a slight price appreciation and shorter days on market," says Fischer.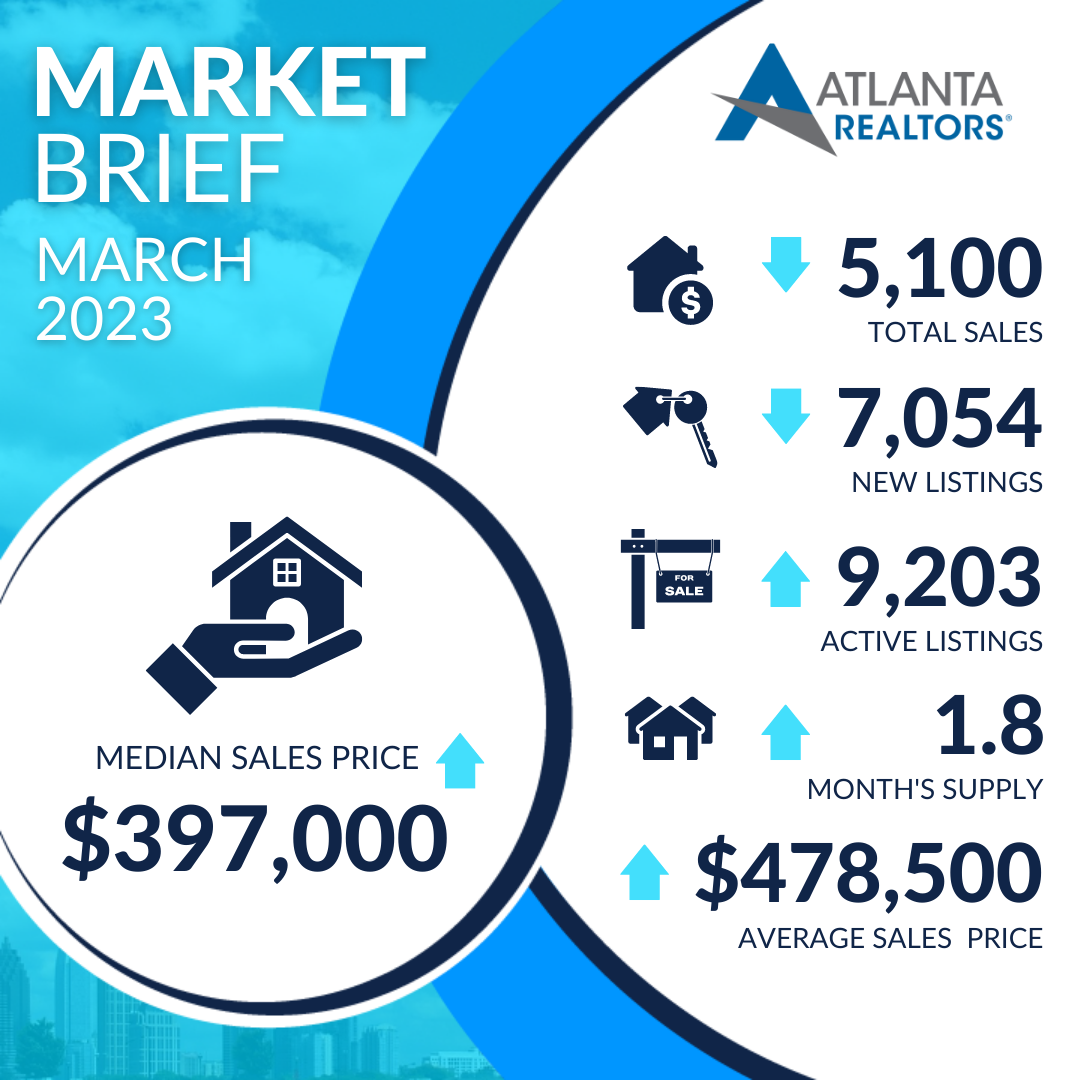 About the GRBOR Market Brief
The Greater Rome Board of REALTORS® (GRBOR) Market Brief is compiled by Georgia Multiple Listing Service (GAMLS).For more information on details of this month's report, please contact the Board at 404.845.4025.
*Each month, the numbers reported for the previous month are updated to reflect additional recordings.
About the Greater Rome Board of REALTORS®
The Greater Rome Board of REALTORS® (GRBOR) has been an instrumental factor in the growth of real estate in Floyd County, Georgia for more than a decade. GRBOR serves as a central source of information for its members, with mainly focusing on real estate education, the promotion of professionalism in the industry and representing REALTORS® members with legislative initiatives to create positive change for the real estate community.
About Georgia Multiple Listing Service
Since 1962 Georgia MLS has been providing real estate professionals with exceptional service, proven technology solutions, and unmatched value. With a laser-sharp focus on making the day-to-day tasks of our MLS subscribers more functional, more productive, and more profitable, we continue to implement the service blueprint that has led to our continued growth. For additional information or to start a discussion about how to partner with GAMLS please contact georgiamls@gamls.com.